What is DoneDone and why do we use it?
DoneDone is an issue tracking system that Major Tom uses to efficiently handle support requests* before and after your website is launched.
*aka tickets, tasks, change requests, etc
How to use DoneDone
Setup and login
After CMS training, your Account Manager will:
Send you an email invitation to DoneDone
Provide you with your project link in DoneDone
You need to follow the email instructions and log in.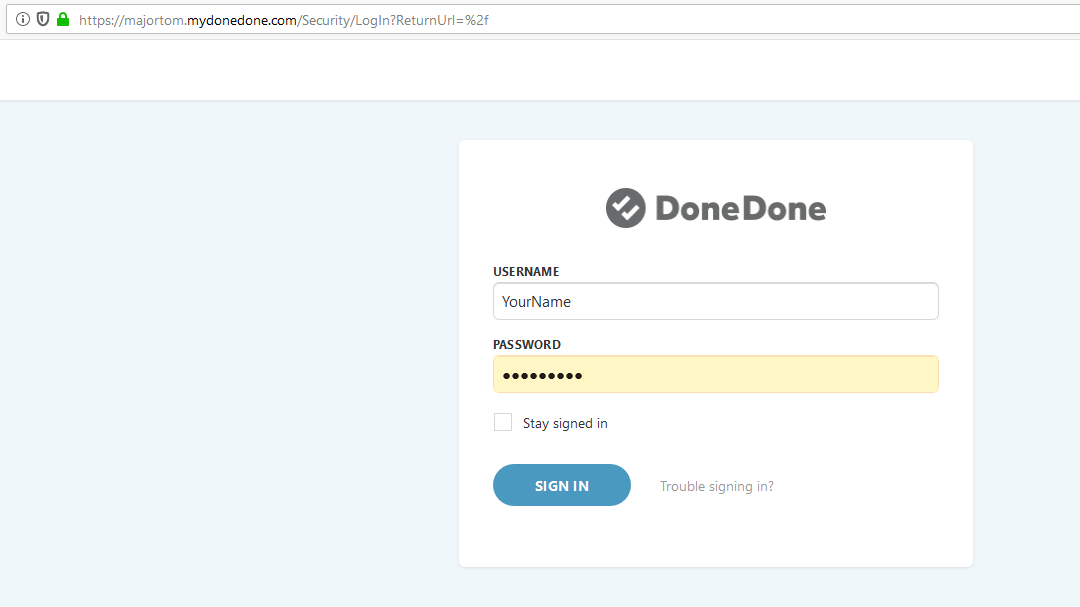 Once you are logged in, you will see only the tickets assigned to you. To see all the tickets created in the project, please select View all tickets.
Ticket creation and communication
Check if your request is not already there! (if you are not sure how use read this section about filtering)
Click the big plus button at the top of the page.
Select fixer and tester

⚒️

(by default it's you). If unsure, assign the ticket to Major Tom Support user.
Check: What makes a great ticket tab and add ticket details.
Check: Choose ticket's priority and submit your ticket.
All the communication in the ticket will go through DoneDone now. Please do not send a separate email if you created a ticket.
You will receive an email every time the ticket is updated if you're a fixer/tester/CC'd on the ticket

✉️

.
Check: Ticket status – who is now responsible for working on the ticket?
If a ticket is assigned to you, please:
Act on the ticket
Update the ticket status
You can check all the tickets assigned to you as a fixer here
If a ticket is assigned to you as a tester, please test the change:
if ok, mark the ticket: Fixed
if not ok, mark the ticket: Not Fixed and update comments
At any time, you can edit a ticket status, fixer, tester, priority, or add new comments via the pencil icon at the top right.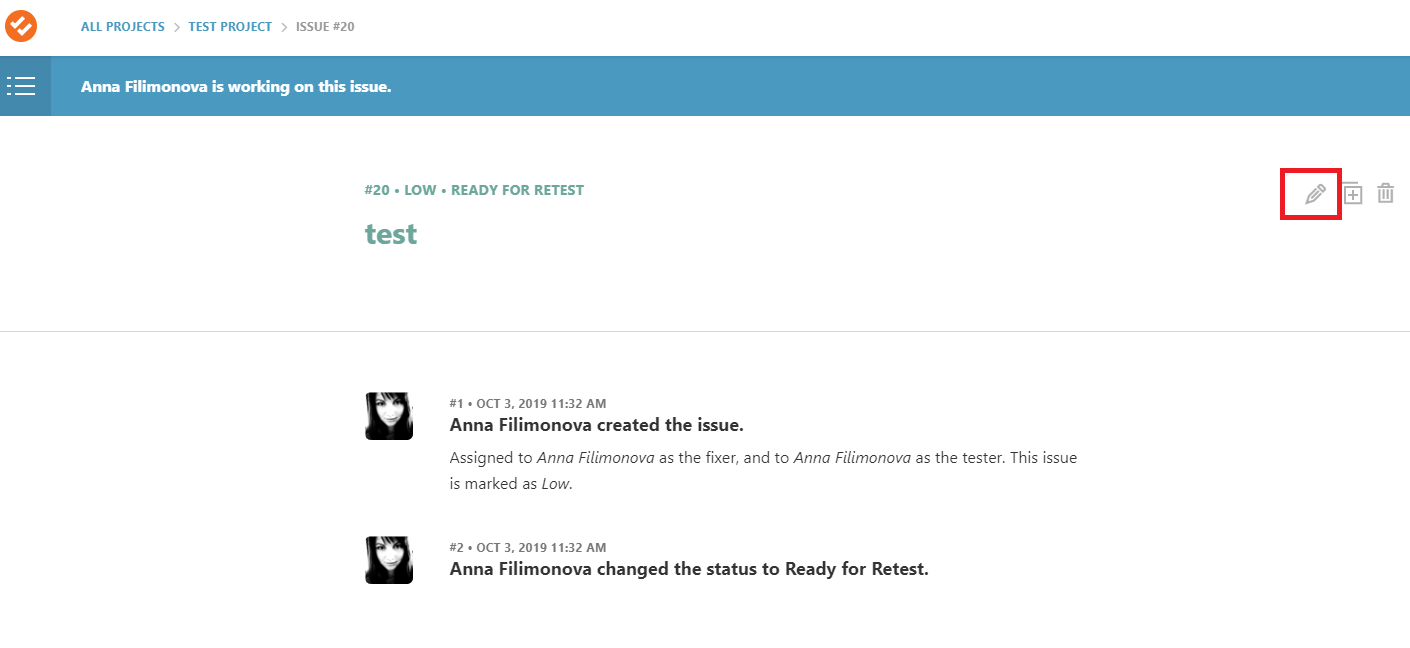 You can comment and/or change priority, reassign the fixer and/or the tester via the tabs in the Update this issue section at the bottom of the page.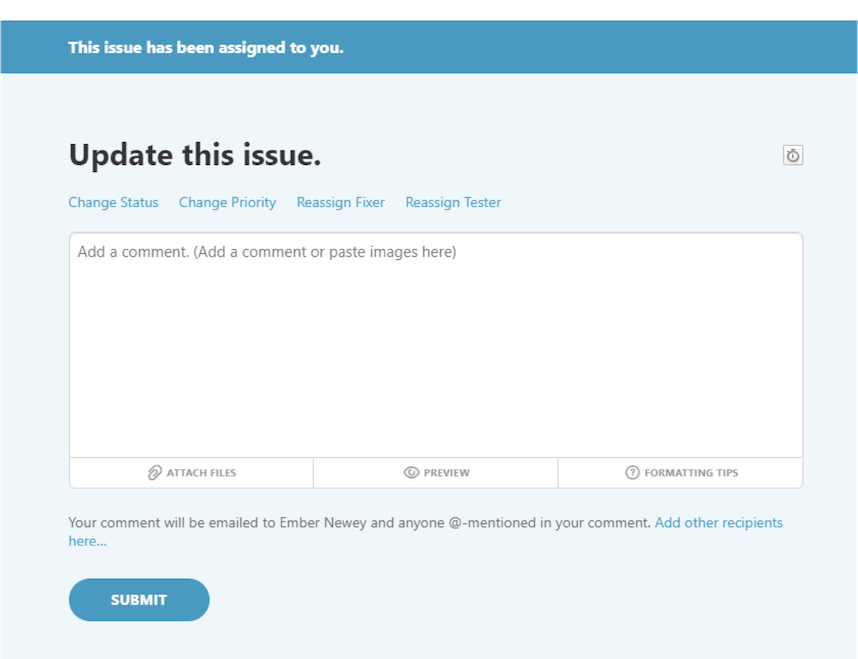 Ticket tips and tricks
Links
Screenshots!!!
Descriptive, but concise title
Browser/OS version when applicable
Lists over long sentences
Ideally one issue/request per ticket
Priority, due dates and tags
Logging everything as critical*
Jamming a lot of requests into one ticket
Adding ticket requests in a Word doc as opposed to the actual ticket details
Not updating the status/due date/fixer/tester
Not adding comment(s)
Critical : The website is down or the issue is high impact (very noticeable) and is blocking content entry or vital functionality.
High : The issue is high impact (very noticeable), is related to other issues, or addresses important functionality.
Medium : Issue is somewhat noticeable and happens all of the time.
Low : The issue occurs infrequently, occurs only on certain devices or browsers, or is not very noticeable.
Waiting on the fixer:
Open Ticket is awaiting review. This is the default status for all new tickets.
In Progress Lets the creator know the ticket has been acknowledged and is being worked on.
Fix Not Confirmed The ticket is back with the fixer. If you are the tester please also add a comment.
Ready For Next Release Is commonly used to notify the fixer & creator about pushing to the next environment.
Pushed Back The ticket is pushed back to the fixer. If you are the tester please also add a comment.
Waiting on the tester:
Ready For Retest Ticket is ready to test. Confirm that you are assigned as the tester before testing.
Missing Information More information is required (e.g., content, credentials or further direction).
Not Reproducible Cannot reproduce. If you are the fixer please also add a comment.
Not An Issue Does not require further action from the fixer and is back with the tester for further review. If you are the fixer please also add a comment.
Duplicate issue Leave this ticket to close as there is another ticket for the same issue.
Inactive tickets:
Fixed The ticket/issue is fixed.

🙂

Closed The ticket is closed. This is similar to fixed, but is used when it turns out that the ticket did not require fixing or was not really an issue.
On Hold The ticket has been put on hold. Let's review in the future.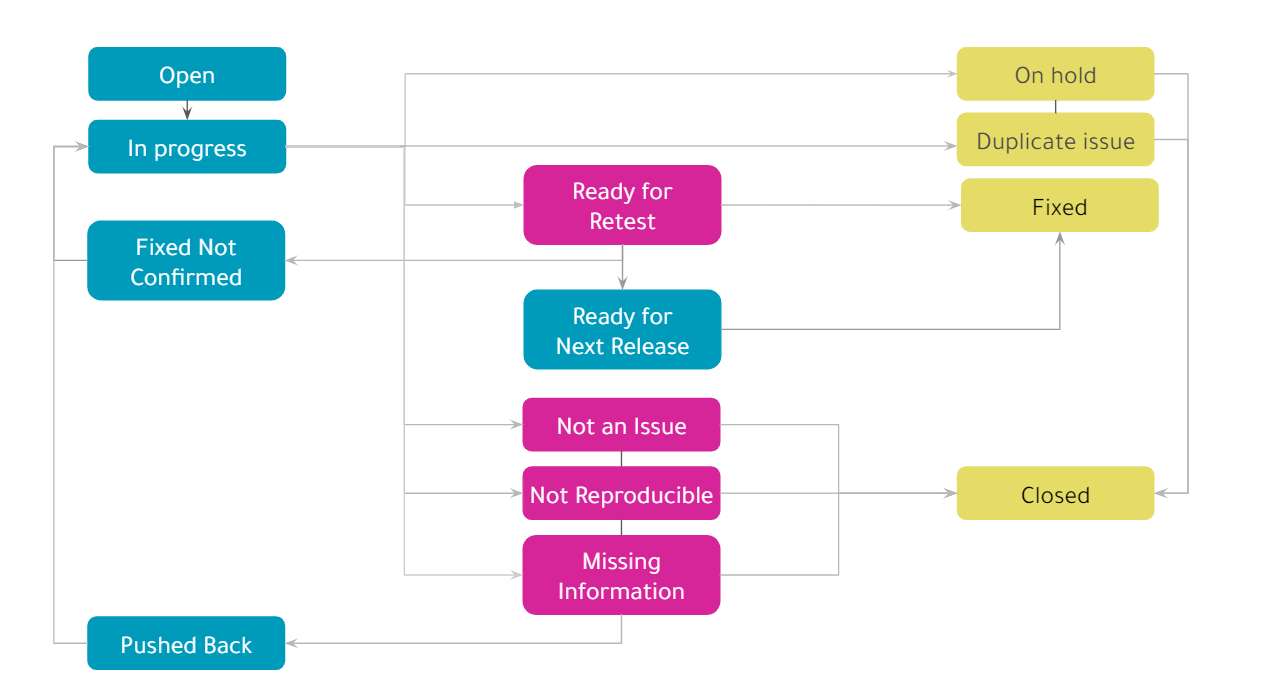 Use cases
My site is down!
If your site is not responding and not loading in the browser, please first contact your hosting provider.
If this happens and is within our standard office hours (9am EST – 8pm EST Monday – Friday), please raise a critical ticket in DoneDone and assign it to Major Tom Support as a fixer.
In case of a critical issue outside the standard office hours, please:
Text
Text Major Tom Manager, Front End Development, Lorraine MacKillican, at 778.808.3823
Send Text Message
Did we miss something?
Not to worry! Just email our support team at

[email protected]